FEATURED PROPERTY FOR SALE
REDUCED PRICE! COMMERCIAL KITCHEN WITH OFFICE & STORAGE AND 2ND FLOOR APARTMENTS
Ground floor is set up for commercial kitchen and retail take-out.
2nd floor is apartment and offices.
RECENT COMPLETED TRANSACTION
Professional Row, Lot 60 (52 Pa'a Street), Kahului, Maui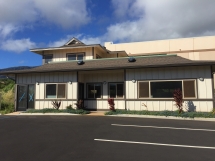 The last Professional Row building in Maui Lani Village Center has sold to Control Freaks Hawaii handling design, engineering, programing, installation, maintenance for audio, video, lighting, shades, networking, security, climate control and energy and power management for residential and commercial users. Commercial Properties of Maui represented the Seller.
LATEST NEWS
15 DEC 17
With Target's $550M Shipt deal, 2017 is the year retailers from Publix to Walmart got serious about competing with Amazon
Read more...
15 DEC 17
Alaska Airlines launches new Hawaii service
Read more...