FEATURED PROPERTY FOR SALE
PARK PLAZA OFFICE CONDO FOR SALE - MAUI RESEARCH & TECHNOLOGY PARK - KIHEI
Own and work from your Class A office building condo located on the ground floor with separate entrance. Enjoy spectacular ocean views from your desk. Space includes 6 private offices, upgraded kitchen and professional conference room/reception area. Finished with mahogany doors and trim, cork flooring and marble counter tops. Kitchen includes custom bamboo and mahogany cabinets, microwave, refrigerator and dishwasher. Located in the Maui Research & Technology Park.
RECENT COMPLETED TRANSACTION
210 Alamaha Street, Kahului, Maui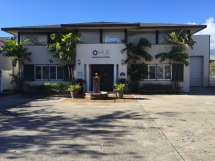 Commercial Properties of Maui represented both the buyer and seller of this Retail Warehouse Building at 210 Alamaha Street, Kahului, Maui
LATEST NEWS
25 OCT 16
Developer plans 31-home project in Hawaii
Read more...
25 OCT 16
Hawaii Taco Bell, Pizza Hut franchise being acquired for $105M
Read more...